Books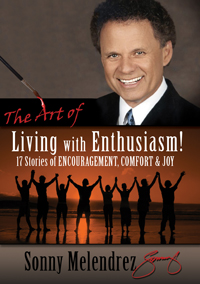 Award-winning broadcaster and motivational speaker, Sonny Melendrez, shares his secrets of how to fill your life with enthusiasm daily. This book was written for those with a burning desire for a better life ahead. Whether you have "been to the mountain" or are ready for your first climb, "The Art of Living With Enthusiasm!" can excite your spirit with thoughts of appreciation, prayer and possibility.
Review by Radio/TV/Film Critic Larry Ratliff
Once a week, almost every week, I drive from San Antonio to Dallas and back on business. Last week, I slid Sonny Melendrez's amazing audio book "Living with Enthusiasm!" into the CD player just before I took the loop around Austin. I can only say that by the time I reconnected with I-35 north of Austin, I was inspired, entertained and full of positive thoughts like I haven't been in years.
"Living with Enthusiasm!" goes way beyond what you would expect from a veteran radio personality and motivational speaker. Even if you know Sonny, and I have been privileged to for years, you will learn things about the master broadcaster that will make you think to yourself, "So that's where Sonny's undeniable inner sunshine came from?"
You'll discover why Sonny grew up in a loving home with a 1/2 in the address, his unique way of proposing to his true love and how a chance encounter with a humble fast food restaurant drive-through-window cashier came close to matching Sonny's unselfish, giving spirit.
This is a book that everyone needs to hear. Yes, hear, because nobody exudes the emotional effervescence of Sonny like Sonny himself. When the audio book ended, all too soon, I might add, I was tempted to make another loop around Austin just to hear it again!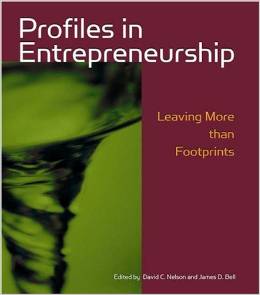 Profiles in Entrepreneurship: Leaving More Than Footprints showcases success through the experiences of 29 highly successful entrepreneurs in their own words. Learn about topics like opportunity recognition, risk assessment, leadership, and how to compensate for limited resources from the first-hand accounts of leaders like Herb Kelleher, Red McCombs, Sonny Melendrez and Katie Brickman Harvey. Each profile includes a look at their driving motivation, tactics, and strategies, highlights of their professional experiences, and a question and answer session. Also included is 2 hours of video on CD–where the profiled entrepreneurs discuss their experiences as if they were addressing your own class. Profiles in Entrepreneurship provides the real-world experience and wisdom in a way that both engages and informs.