The Unstoppable Power of Enthusiasm!
Author of "Living With Enthusiasm!", broadcaster, and motivational speaker, Sonny Melendrez delivers a compelling message of the power of unstoppable success through enthusiasm. His story is one that must be heard to be believed. As an inspirational entertainer, Sonny keeps his audience engaged through his non-coincidental experiences and amazing voice talent. Conferences, companies, associations, universities and schools have enjoyed his 5,000+ presentations.
Other Popular Keynotes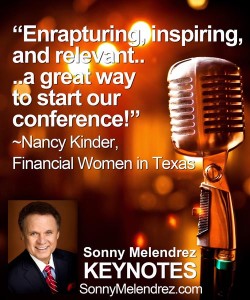 Conferences:
"Enthusiasm in the Workplace!" No matter the high-level of customer-experience centered training, your teammates need to have their batteries charged; their passion re-ignited; their purpose re-kindled. In this story-filled presentation, Sonny proves how daily enthusiasm creates a personal source of self and team encouragement, making for remarkable and creative employee empowerment.
"5 Secrets to Success Using the Walt Disney Philosophy"
Colleges & Universities
"Big Dreams begin with Small Actions" [Video] Students are given a road map to success through a series of entertaining and relateable lessons.
Company Meetings:
"A Wave of Change, An Ocean of Opportunity" Change is a constant in today's fast-paced corporate environment and Sonny's insightful presentation eases the uncertainty, provides hope for the future and inspires team members to re-commit to excellence.
100% of our conference survey responses rated your presentation as excellent! Comments included, 'Enrapturing, inspiring, and relevant', 'Great way to start our conference!' Your keynote set the tone for the entire conference! ~Nancy Kinder, Chair, Financial Women In Texas Conference 
Non-Profits:
"Giving with Enthusiasm!" Sonny delivers a compelling presentation designed to reignite the passion found in all levels of charitable success. Volunteers, doners and administrators will leave inspired and proud of their unselfish efforts.
Teachers & School Staff Development & Convocation:
"Teaching with Enthusiasm!" Sonny rekindles the why teachers chose this purpose-filled profession by giving real-life solutions to challenges like, apathy in the classroom, bullying, difficult parents, budget-cuts, and more. A perfect presentation to kick off the school year or staff development. Sonny reveals the 4 most important words a student can hear: "I believe in you."
" In a convocation center housing some of the most phenomenal educators on this planet, Sonny Melendrez brought back many childhood memories and reinforced the power of believing in each other…in our kiddos!" ~Eve Prado, Instructional Coach, San Antonio ISD
Parental Involvement:
"When Parents Believe, Students Achieve" – Want to fire up parents to get involved in their child's future? This program takes the Parent/Teacher/Student partnership to a whole new level. Sonny challenges parents to engage in the process of a successful education.