The Faces of Gratitude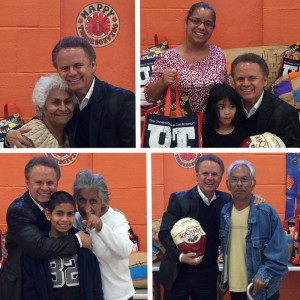 Since 1997, it has been my honor to connect generous, caring individuals, companies and groups with the low-income families and seniors served by the Sonny Melendrez Community Center located in San Antonio's West Side.
Here is a glimpse of our Annual Turkey Giveaway, made possible, this year, through the generosity of local businessman, Mark Hurley. (Special thanks to Mark O'Cleirigh for facilitating this donation.)
We also appreciate our friends at HEB for their ongoing commitment to our community.
From the young boy, whose grandmother is pointing to the camera because he is deaf to the tiny lady who lives alone, all are special to me and I am so blessed to help bring joy into their lives.
And, may I say that our San Antonio Parks & Recreation staff, headed by Alex Charles, is second to none!
In this time of giving thanks, I am reminded that, it not only is better, but it also feels better to give than to receive.