The Wisdom of Rocky Balboa
It was early 1979 and I found myself in a small waiting room at the MGM Studios in Hollywood. I was there to read for the part of a reporter in the sequel to Sylvester Stallone's Academy Award winning, ROCKY.
When my name was called, I expected to meet with a group of casting directors, as is usually the case, but to my surprise, only one person sat on the other side of a small desk — Stallone himself.
His greeting was as warm and down to earth as Rocky Balboa and after telling him a little bit about myself, we got down to business. I can remember him searching through the script to find a part that had the most lines.
"Here, try this," he said, with that trademark accent, as handed me the page.
One read and that was it.
"Very nice. Are you available next Tuesday?" (Looking back, I'm surprised he
didn't offer to pick me up and take me to the set!)
Just like that, I had been cast by one of the biggest movie stars in the world. I would later find that Sly sees life through the eyes of those on the outside looking in. He believes in opportunity for all.
The scene in the movie takes place at the boxing commissioner's office as Rocky announces his rematch with Apollo Creed, played by the late Carl Withers, and was actually filmed in an abandoned bank building in downtown Los Angeles. It took two days to film less than as many minutes.
One of the other actors cast as a reporter was an KABC-TV news anchor and former Miss America, Tawny Little. We had met on the ABC lot while I was hosting segments for ABC-TV's "Kids Are People, Too!," and ended up hanging out together during most of the Rocky II filming.
"Let me tell you something you already know. The world ain't all sunshine and rainbows. It's a very mean and nasty place and I don't care how tough you are it will beat you to your knees and keep you there permanently if you let it. You, me, or nobody is gonna hit as hard as life. But it ain't about how hard ya hit. It's about how hard you can get hit and keep moving forward. How much you can take and keep moving forward. That's how winning is done!"  ~Rocky Balboa
Stallone reminded me of someone else who did as much behind the camera as he did in front of it: the late Dick Clark.
Every shot was blocked out carefully and nothing happened until Stallone was ready. Yet, everyone seemed to be enjoying themselves, knowing that we were working on another possible blockbuster.
When the scene was done, Sly thanked everyone and posed for pictures with a few of the actors, including Tawny and me.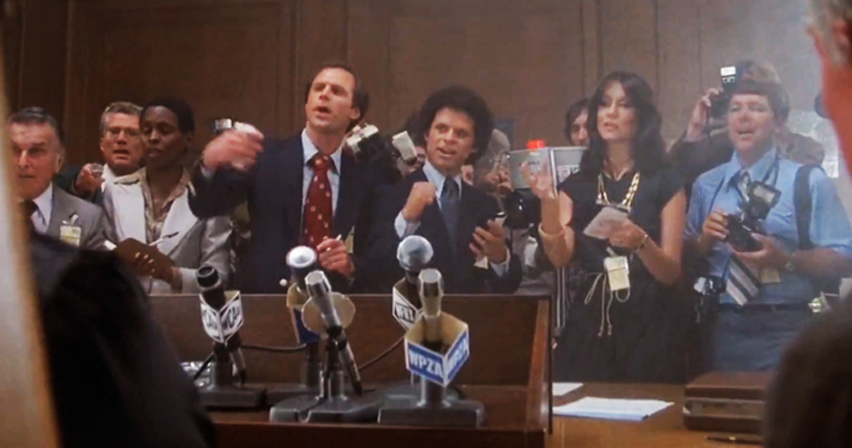 We all met again at the premiere held at Mann's Chinese Theater in Hollywood and received a special gift from Sly: a satin jacket similar to the one he wore in the movie with the Rocky II emblem on the back. It is encased and hangs proudly on my office wall.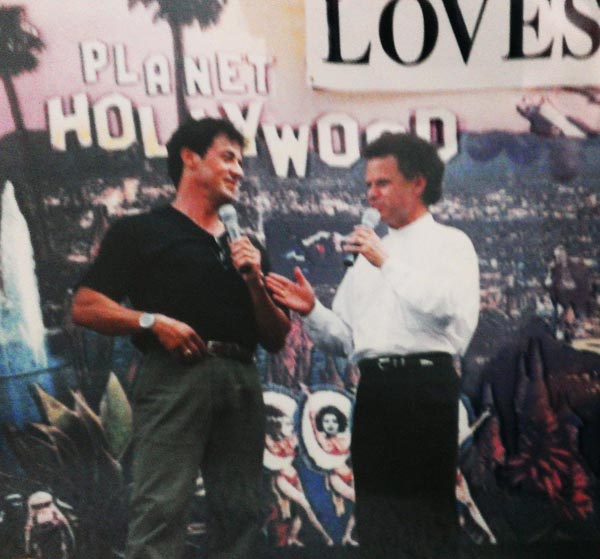 Several years later, I hosted the ground breaking ceremonies for the new Planet Hollywood in San Antonio and was pleased to be sharing the stage with Sylvester Stallone. He kidded me about being shorter than him (Stallone stands 5′ 8″) and I asked if there would be any more Rocky sequels, as Rocky V had just been released.
He said, "You never know."
The wisdom of Rocky Balboa can be summed up in that very statement, "You never know…..(until you try)."
And, try he did, winning a Golden Globe, 40 years since it all started.
"I want to thank my imaginary friend Rocky Balboa for being the best friend I ever had." ~Sylvester Stallone
While the original Rocky movie was about an unknown getting his shot at the title, Rocky Balboa is about what many consider to be a "has-been", facing seemingly insurmountable odds as he tries to let out what Rocky calls, "the stuff in the basement."
The stuff in your heart.
There's a bit of Rocky in all of us.
That's why we have enjoyed the ride and will continue to be attracted to any story that speaks to our dreams. Because, no matter where you are in life,
"It ain't over till it's over." ~Rocky Balboa